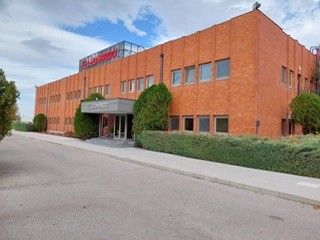 LEONARDO TURKEY ( Aerospace Defense and Security Systems ) Havacılık Savunma ve Güvenlik Sistemleri A.Ş. was found as a joint venture in 1988 to answer Turkish Armed Forces' need of HF/SSB radios. Established on a 30.000 square meters land with a 4500 square meters of engineering and production facilities in Gölbaşı, Ankara, Leonardo conducts R&D, production, setup, integration and logistics support on defence, aerial industry, and security systems.
Thousands of HF radios with different configurations were produced between 1988 and 1997 in the production facilities in Gölbaşı, Ankara and delivered to the Turkish Armed Forces. LEONARDO TURKEY has the quality standards of ISO 9001-2015, AS 9100:2016 and EASA Part 21 Sub Part G; and widens its product and service variety in accordance with the latest technological improvements.
LEONARDO TURKEY successfully put the turnkey delivery approach on Integrated Communication Systems into practice in Turkey through the Turkish Naval Forces Coastal Station Modernisation in 1997, and Modernisation of the Integrated Combat Systems of "Doğan" class assault boats in 1998. In this scope, the modernisation of İzmir, İstanbul and Çanakkale Coastal Communication Stations, and 4 "Doğan" class assault boats were completed and delivered to the Turkish Naval Forces. Additionally, our company modernised the combat network subsystems of the frigates in scope of the Turkish Naval Forces' Project GENESIS as a subcontractor of HAVELSAN and AYESAŞ.
The Integrated Communication Systems of 4 Search and Rescue ships built for the Coast Guard Command were designed and delivered by LEONARDO TURKEY as a subcontractor of ASELSAN. Additionally, our company produced and delivered equipments for Turkish Armed Forces' Tactical Field Combat System. Moreover, LEONARDO TURKEY developed, produced and delivered the Message Operating Systems required for the Coast Guard Command's search and rescue ships, 16 New Type Patrol Boats for the Turkish Naval Forces and 8 for the Turkmenistan Armed Forces, and Moship/Kuryed, and Logistic Support Ship Projects.
LEONARDO TURKEY utilised its deep knowledge and experience on Military Communication Systems during the design and production of Power Amplifiers, Antenna Tuning Units and Power Supplies for Turkish Armed Forces' Software Defined Radio and High Power (5-10kW) HF Radio Systems as the subcontractor of ASELSAN and ship platform setups.
First steps in Turkey towards gaining design and production capabilities of illumination systems for aircrafts was achieved when we won a tender called by TUSAŞ for producing interior and exterior lightings of the Europe-wide project, A400M Military Transport Aircraft.
We also conduct the tuning of interior and exterior illumination systems for night vision systems (NVIS-Night Vision Instrumentation System as required in scope of Turkish Air Force's "Modernisation of C-130 Avionic Systems" (Erciyes) project as the subcontractor of TUSAŞ, alongside with our successfully continued A400M product development and production. These new assets are primarily utilised in HÜRKUŞ New Generation Training Aircraft and more projects, while the design and production operations for internal and external illuminations and cockpit dashboards are successfully going underway.
LEONARDO TURKEY is continuing its success in designing and producing NVG Compatible Control Dashboards. The control dashboards used in the GÖKBEY Project, whose main contractor is TUSAŞ, are designed by our company and completely produced in Turkey. Additionally, various dashboards used with avionic systems are designed and produced in our facilities and are being supplied to main contractors in defence industry like ASELSAN.Maintenance of IFF checking and V/UHF Communication Systems' storage units of NATO AWACS aircrafts are done by our company in Turkey. Moreover, LEONARDO TURKEY also conducts maintenance on NATO Radars deployed in Turkey.
LEONARDO TURKEY is offering cost effective and reliable solutions for integrated security, public safety, and emergency communications. Along with its unique product portfolio and capabilities, LEONARDO TURKEY also has the wide product portfolio and technical support of its parent company LEONARDO INTERNATIONAL. We have been serving our country for more than 30 years with Aerial, Defence and Security Systems, and our goal is to continue adding even more value to our country.
Brief information about the products and services provided by LEONARDO TURKEY can be found below
• Internal and External NVIS Illumination Systems and NVIS Conversions for Aerial and Land Platforms
• Control Dashboards for Aerial and Land Platforms
• Communication Products and Peripheral Units for Aerial Platforms
• Land and Naval Communication Systems, Products and Peripheral Units
• Military Message Operating Systems
• Integrated Security & Emergency Communication Systems
• Rack Type/Mini Computer Systems in Military Standards